While Hanlon's razor may have started out as a prank, its comedy illuminates truths that pure explanation frequently fails to.
Ironically, given the 7th Circuit's Barbee holding (see yesterday's post), Forbes magazine last week published the deepest dive into BOP COVID data yet, and asked whether the agency's "reaction to COVID-19 and the implementation of the First Step Act… can be attributed to the government wanting to keep prisoners locked down and maintain jobs or a deeper, underlying problem."
A CDC study at FCI Texarkana last summer, Forbes notes, "demonstrated the potential for COVID-19 outbreaks in congregate settings including correctional and detention facilities, even among resident populations with high vaccination rates. According to new research, even people who have been vaccinated yet live in close quarters with infectious but unvaccinated neighbors are at risk of contracting the disease again. Vaccine protection can be overwhelmed in prisons, where people are exposed to far greater levels of illness than in the general population."
Relying on data from Mark Allenbaugh (a former Sentencing Commission attorney) at SentencingStats.com, Forbes found that while there was an uptick in home confinement to about 5,400 prisoners in early summer 2020, "since then, that number has remained relatively flat, meaning that the elderly or sick inmates, who could be transferred to home confinement, have stayed in prison. In fact, the overall prison population, which bottomed in early 2021, has increased by more than 20,000 in the past year."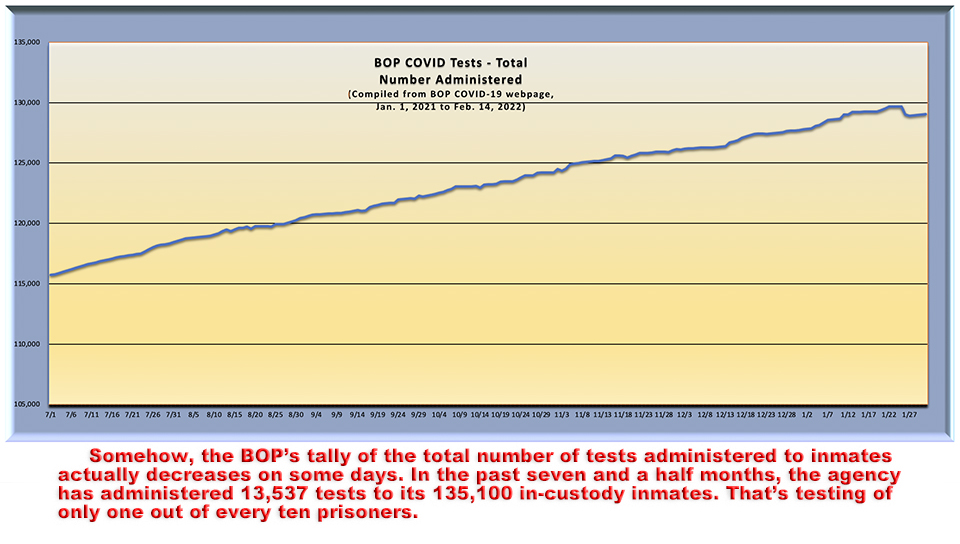 The BOP's COVID infection rates among detainees are also much worse than what the BOP reports, and their own numbers reflect that, according to Forbes, Allenbaugh said, "The BOP simply is not testing prisoners to determine if or when they are recovered. Rather, they are just assuming recovery after approximately 10 to 14 days. The rate of drop in infection among prisoners cannot be otherwise explained, particularly if you compare the trends between prisoners and staff. The problem, therefore, is that infectious prisoners are being returned to the general population spreading the infection even more."
What if you want to see it for yourself? Only 13,537 times have the BOP been tested since July of last year. That works out to around one in ten convicts once every seven-and-a-half months.
This complaint is shared by others. Advocates, like Corene Kendrick (deputy director of the ACLU National Prison Project) and Joshua Manson, a researcher with the UCLA Law COVID Behind Bars data project, say that most of the information on how many people have been infected with, or died of, the virus is inaccurate. "They're not being fully transparent," Manson told Capital News Service last week. "They're sort of just asking the public to trust them when they've really given the public no reason to trust them. There have been enormous numbers of people who've been infected in the Bureau of Prisons' custody… but we know that the actual number is considerably higher than that."
According to Forbes, the number of convicts who haven't been properly vaccinated and those who require booster doses is far more than the BOP has said. "While the BOP touts that its vaccination rates are near 90%, that includes those who have received only one shot, which we all know is not effective enough." On the other hand, Allenbaugh quoted BOP vax figures that claim more vaccinated prisoners than their actual number. This is something I've already noticed.
Manson agreed, complaining the BOP website has a category for "fully vaccinated" inmates, but that number doesn't include the number of people who have not yet gotten a booster. "Now, I don't really think that you can call someone fully inoculated right now if they haven't received the booster," he said.
The CARES Act was enacted in part to help reduce the number of people incarcerated. BOP facilities were reported to be at 94.3% capacity in July 2020 by Forbes, but 18 months later they are at 98.8% capacity on average, with 93 institutions operating beyond their rated capacity. This is due in part to Biden's closure of private prisons, resulting in "thousands of prisoners… now being crowded into BOP-run facilities."
A new BOP director has not yet been chosen, but one cannot be hired quickly enough to rectify the bad management and dishonesty of those now in charge. It will take a huge amount of work to transform a company that is failing both its inmates and its staff, who are getting increasingly disgruntled. The statistics don't lie."
The need for a longer-term solution is becoming more obvious, inasmuch as COVID will "continue to be a problem for incarcerated people, even as the world tries to move on," according to Wanda Bertram of the Prison Policy Initiative. Public officials who have declared COVID endemic are "basically admitting that prisons are going to be more dangerous in terms of health risks than they've been before," Bertram said.
Forbes, Statistics Show Federal Bureau Of Prisons Unable To Implement Key Policies During Crisis (February 7, 2022)
CDC, Outbreak of SARS-CoV-2 B.1.617.2 (Delta) Variant Infections Among Incarcerated Persons in a Federal Prison — Texas, July–August 2021 (September 24, 2021)
Front Royal, Virginia, Examiner, Lawmakers, families, advocates challenge handling of COVID in federal prisons (February 11, 2022)
North Carolina Health News, Breaking point: What is the future of COVID and incarceration? (February 10, 2022)